M-x recipes
Made with Emacs Org Mode, recipes imported with org-chef. Download these recipes: Recipes PDF, Recipes Booklet, Org Source. You can print the booklet double sided with long edge binding, then fold in half and staple in the middle. Here is what the completed booklet looks like: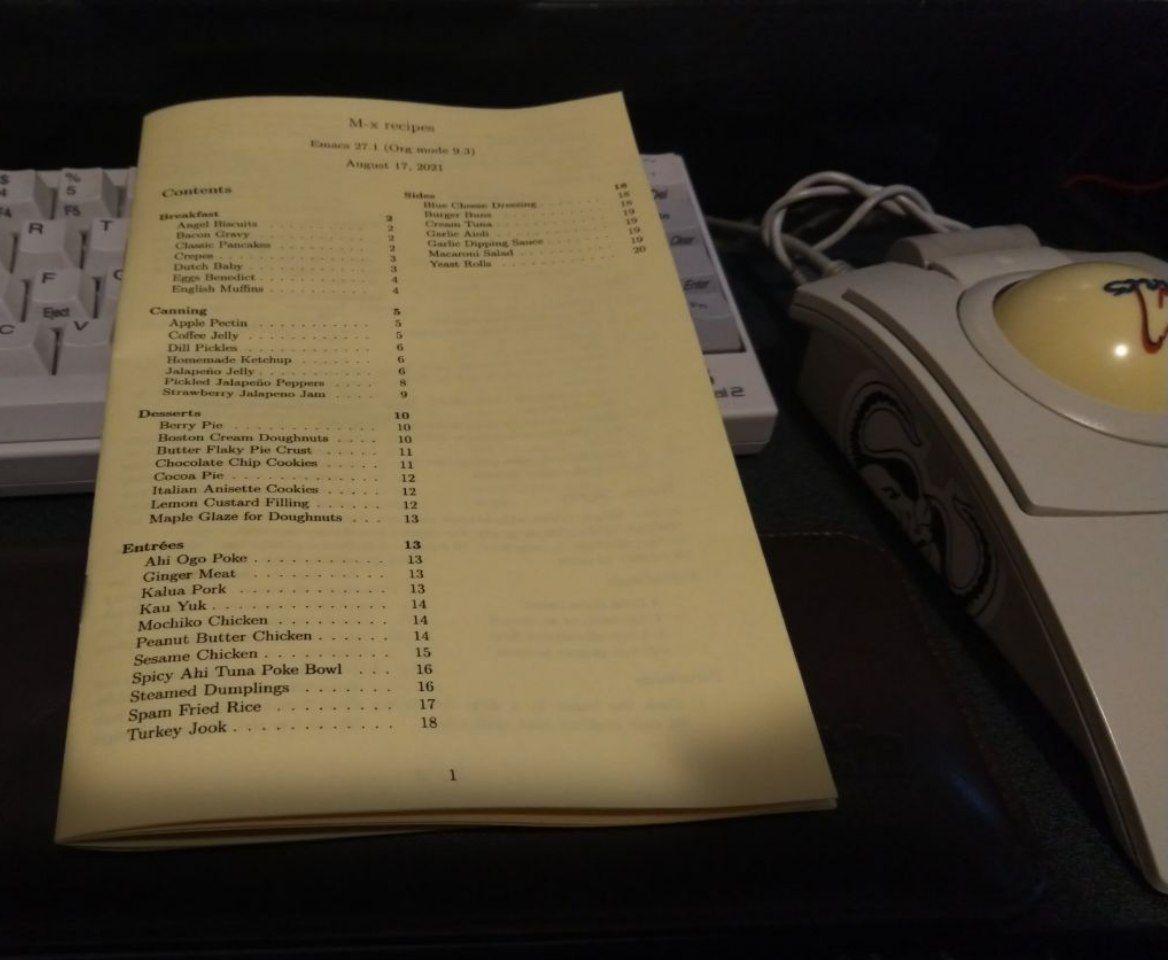 source: postcard, servings: 30-35 biscuits, prep-time: 10 mins, cook-time: 16-18 mins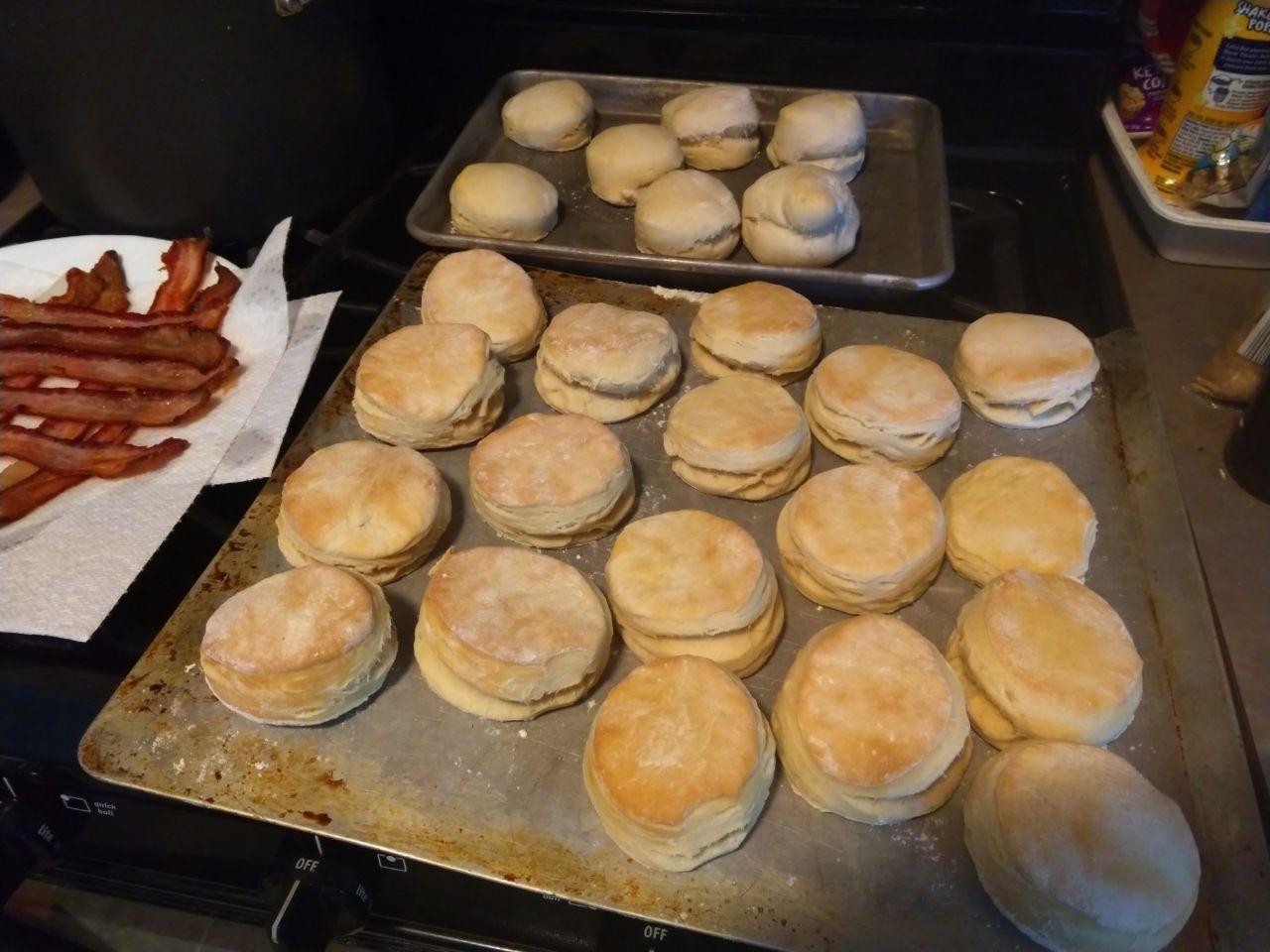 5 cups all purpose flour
3T sugar
1t salt
1t baking soda
3t baking powder
2 packs active yeast
1/2 cup warm water
3/4 cup butter
2 cups buttermilk
Preheat oven to 375F.
Mix dry ingredients together.
Cut in shortening with pastry blender.
Add buttermilk
Dissolve yeast in warm water in smaller bowl, then add to flour mixture.
Blend together and knead on floured surface.
Roll out dough to 3/4" thickness, cut biscuits and put on baking sheet
Bake 16-18 minutes until golden on top with cooked centers.
Back to top
source: https://www.allrecipes.com/recipe/161819/bacon-gravy-for-biscuits/, servings: 5, prep-time: 10 mins, cook-time: 15 mins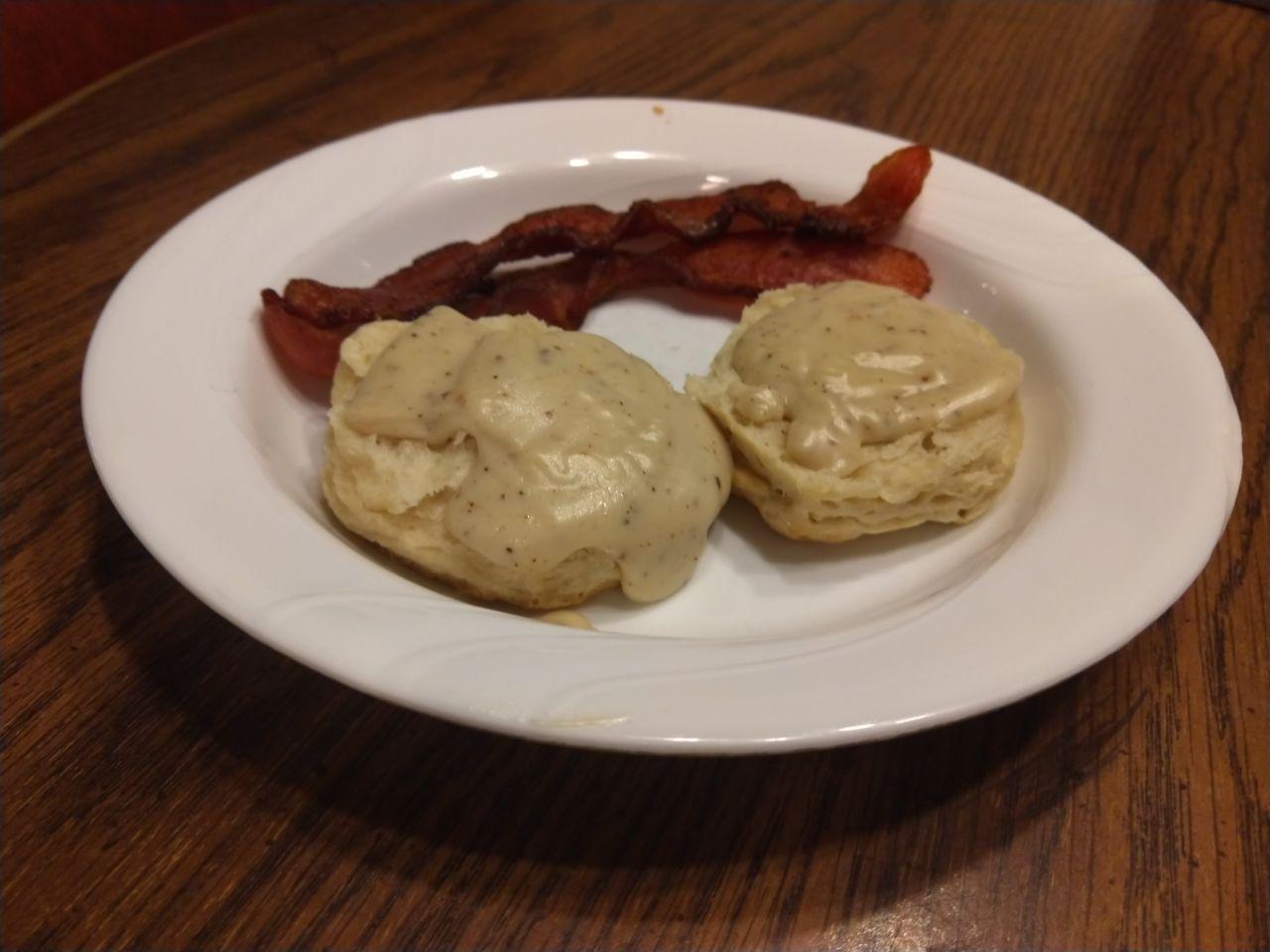 4 thick slices bacon
1 cup milk, or as needed
1/4 cup all-purpose flour
salt and pepper to taste
Cook the bacon in a deep skillet over medium heat until crisp, about 10 minutes.
Remove bacon to a paper towel lined plate and keep the grease in the pan.
Gradually stir in the flour so that no lumps form, then mix in the milk, continuing to cook and stir until thickened.
Crumble the bacon into the gravy and season with salt and pepper before serving.
Back to top
source: https://www.foodnetwork.com/recipes/blue-ribbon-cinnamon-rolls-recipe-3416473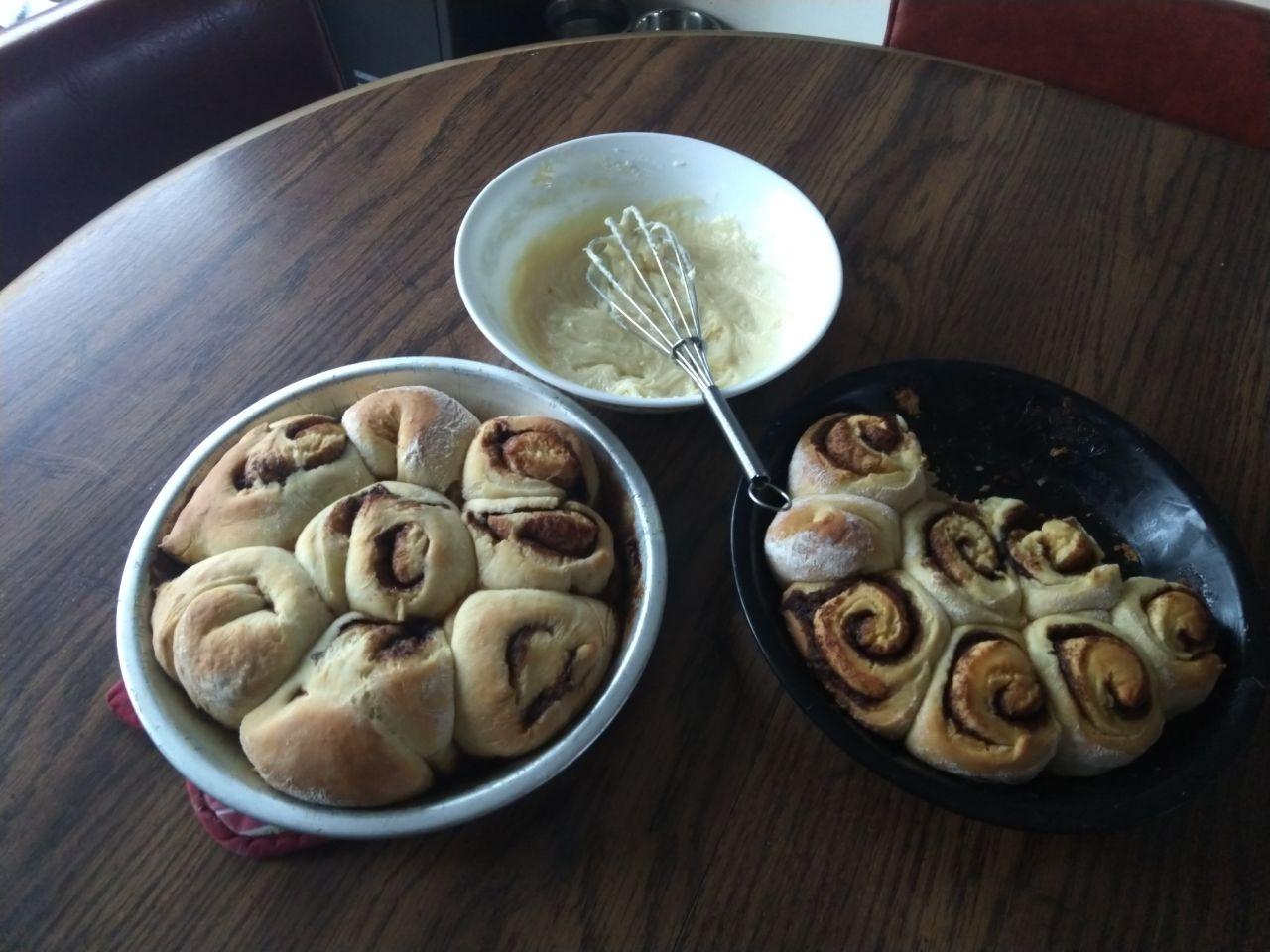 4 large eggs
3/4 cup granulated sugar (6 ounces)
1 teaspoon fine salt
2 cups lukewarm milk
1/2 cup (4 ounces) butter, at room temperature
8 cups all-purpose flour, divided
2 tablespoons active dry yeast
Oil, for brushing
2 cups packed brown sugar
3 tablespoons ground cinnamon
1/2 cup butter room temp
1/4 cup butter, softened
4oz cream cheese, softened
1 teaspoon vanilla extract
1/8 teaspoon salt
1 1/2 teaspoons milk
1-1/2 cups confectioners' sugar
Beat eggs, sugar, and salt together. Add warm milk, yeast, and butter. Slowly add 6 cups of flour, then add more until the consistency is right. Knead in mixer 7 minutes on medium speed.
Form ball with dough and move to greased bowl, then cover to rise for an hour.
Preheat oven to 350F. Spread dough into 1.5x2ft rectangle. Spread butter on dough then cover with brown sugar and cinnamon. Roll up and cut into slices with kitchen shears. Bake in pan for around 15 minutes, then cool.
For icing, whisk together softened butter, cream cheese, vanilla, salt, and milk. Slowly whisk in powdered sugar.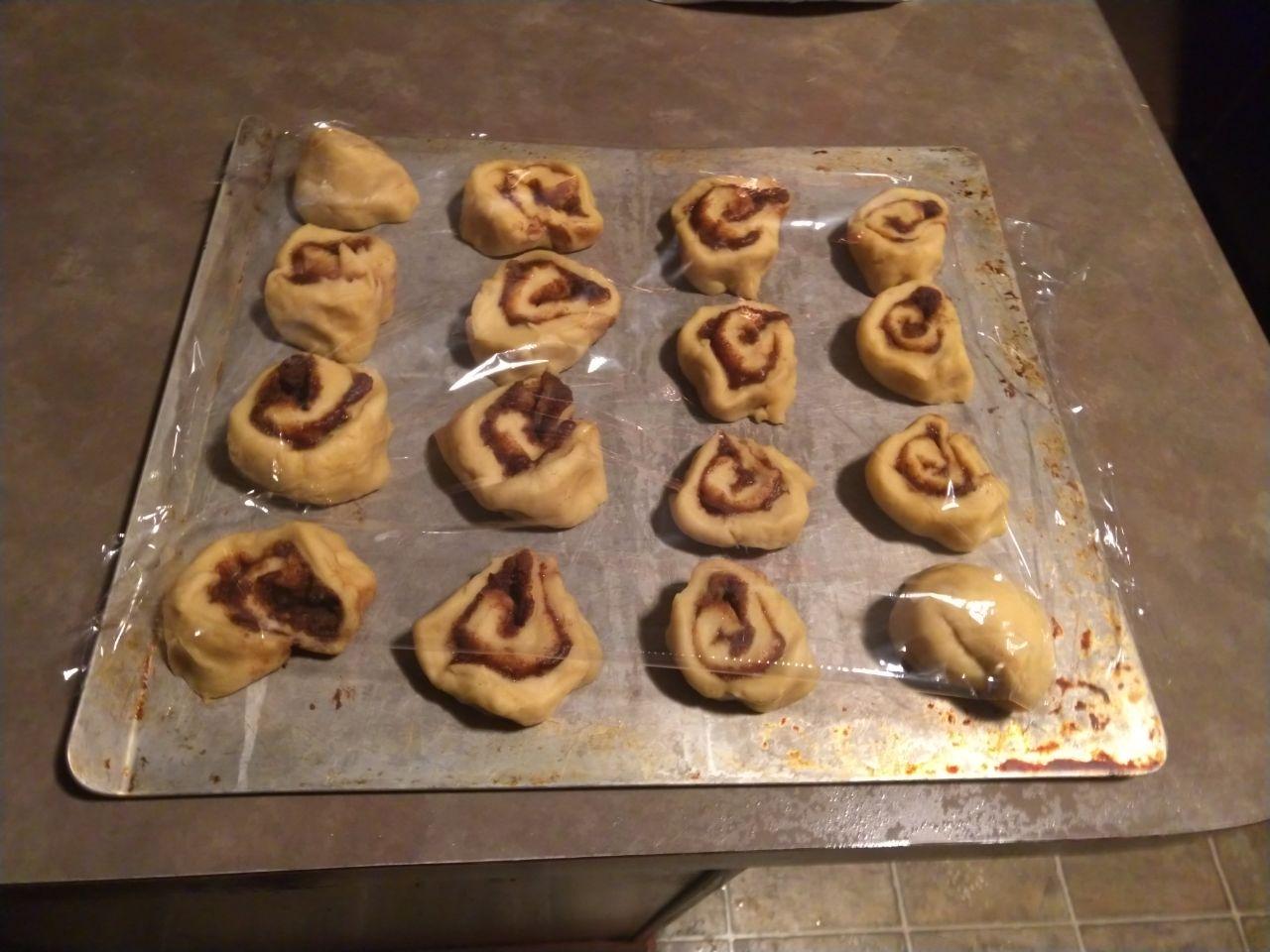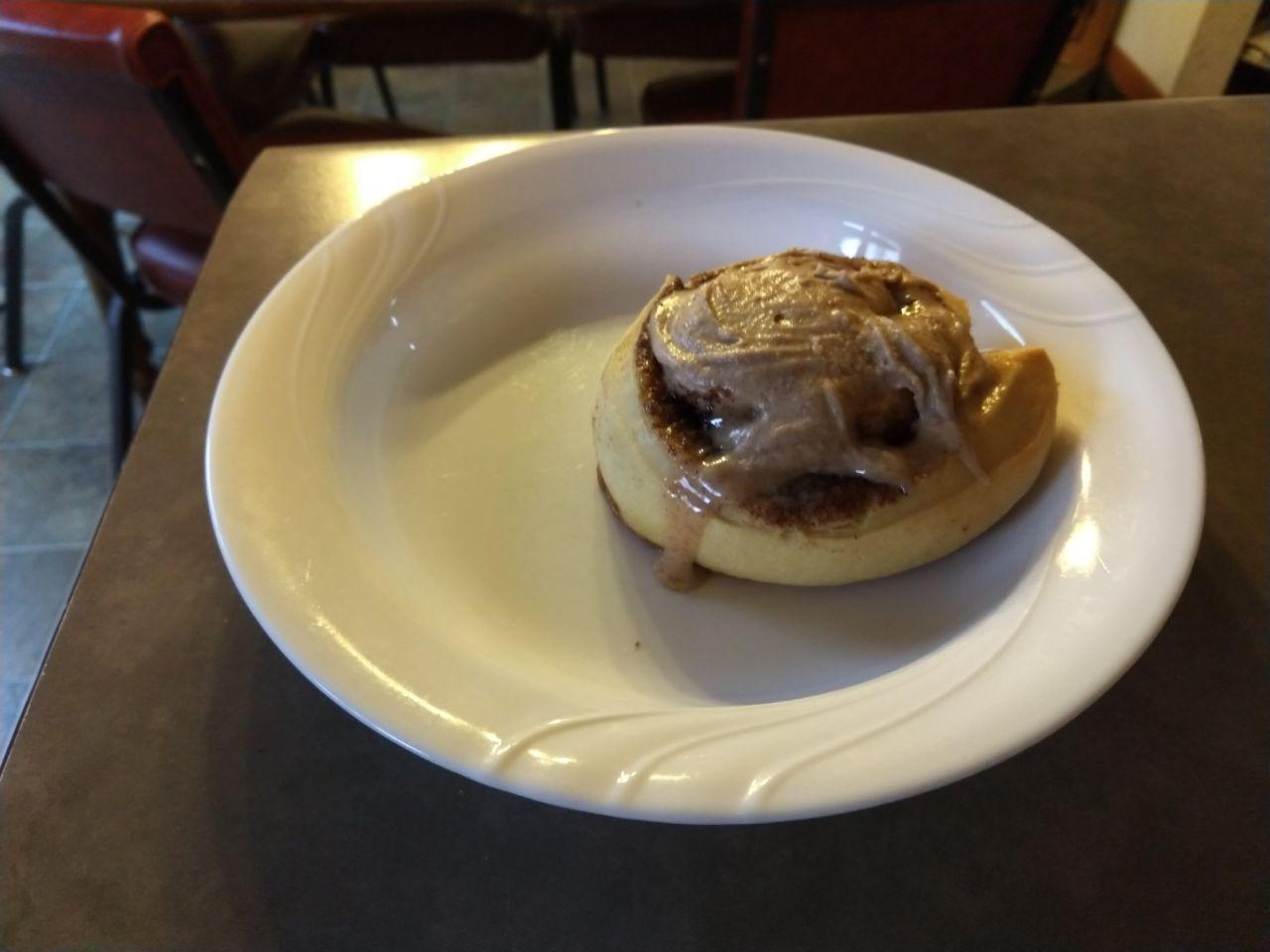 Back to top
source: https://www.bettycrocker.com/recipes/crepes/d1a32347-ba88-4ddf-998b-d6f9e4dd74c3, servings: 12, prep-time: 10 minutes, ready-in: 35 minutes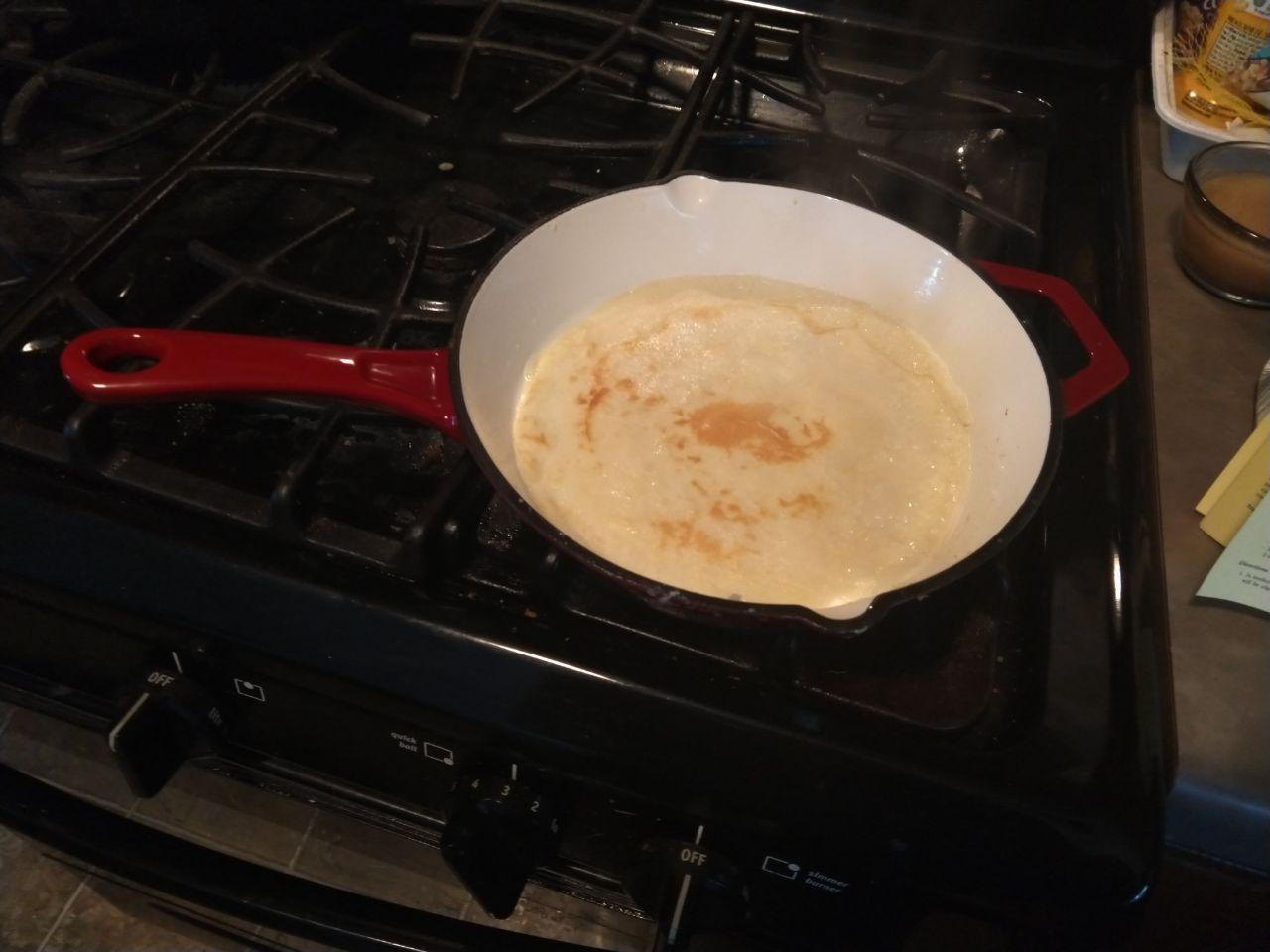 1 1/2 cups all-purpose flour
1 tablespoon granulated sugar
1/2 teaspoon baking powder
1/2 teaspoon salt
2 cups milk
2 tablespoons butter, melted
1/2 teaspoon vanilla
2 eggs
Mix flour, sugar, baking powder, and salt in bowl. Stir in milk, 2 tablespoons butter, vanilla, and eggs. Beat with whisk until smooth.
Butter pan and heat until bubbly. Pour on enough batter to lightly cover the bottom, and cook until light brown before carefully flipping.
Back to top
source: https://cooking.nytimes.com/recipes/6648-dutch-baby, ready-in: 40 minutes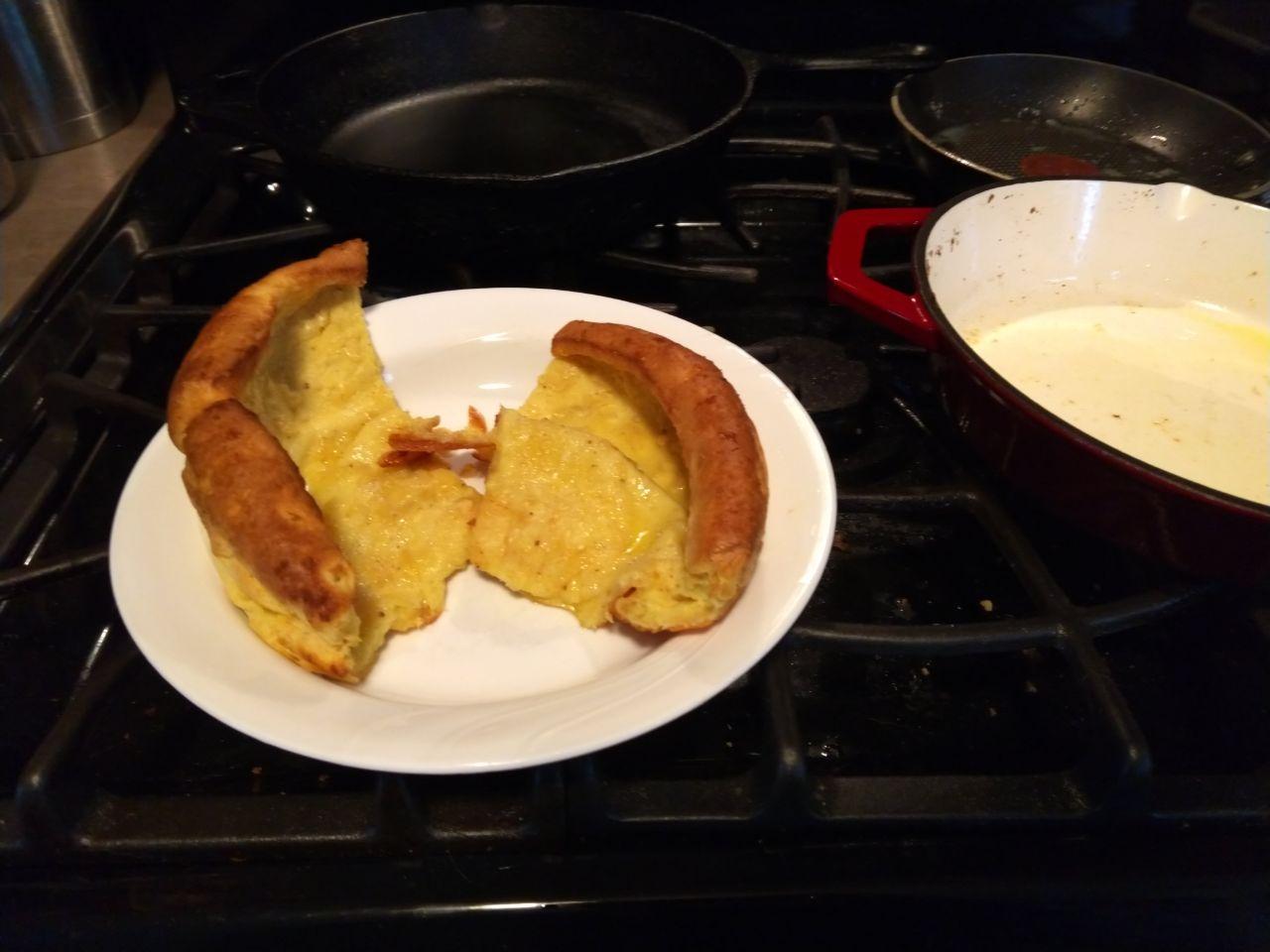 3 eggs
1/2 cup flour
1/2 cup milk
1 tablespoon sugar
Pinch of nutmeg
4 tablespoons unsalted butter
Syrup, preserves, confectioners' sugar or cinnamon sugar
Preheat oven to 425 degrees.
Whisk eggs, flour, milk, sugar and nutmeg until smooth.
Place butter in a heavy 10-inch skillet or baking dish and place in the oven. As soon as the butter has melted, add the batter to the pan, return pan to the oven and bake for 20 minutes, until the pancake is puffed and golden. Lower oven temperature to 300 degrees and bake five minutes longer.
Remove pancake from oven, cut into wedges
Back to top
source: https://www.allrecipes.com/recipe/17205/eggs-benedict/, servings: 4, prep-time: 25 mins, cook-time: 5 mins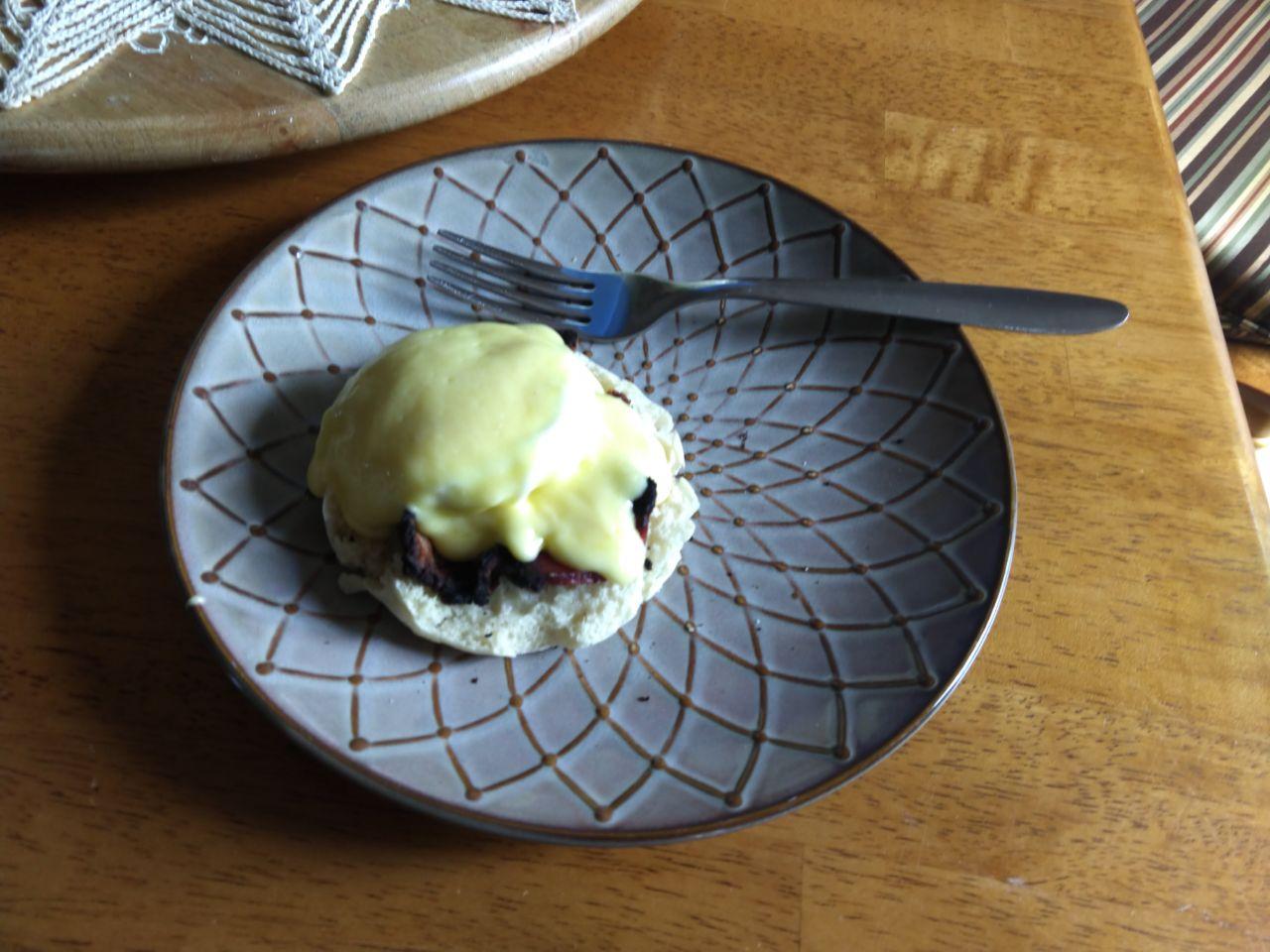 4 egg yolks
3 1/2 tablespoons lemon juice
1 pinch ground white pepper
1/2 teaspoon Worcestershire sauce
1 tablespoon water
1 cup butter, melted
1/4 teaspoon salt
8 eggs
1 teaspoon distilled white vinegar
8 strips Canadian-style bacon
4 English muffins, split
2 tablespoons butter, softened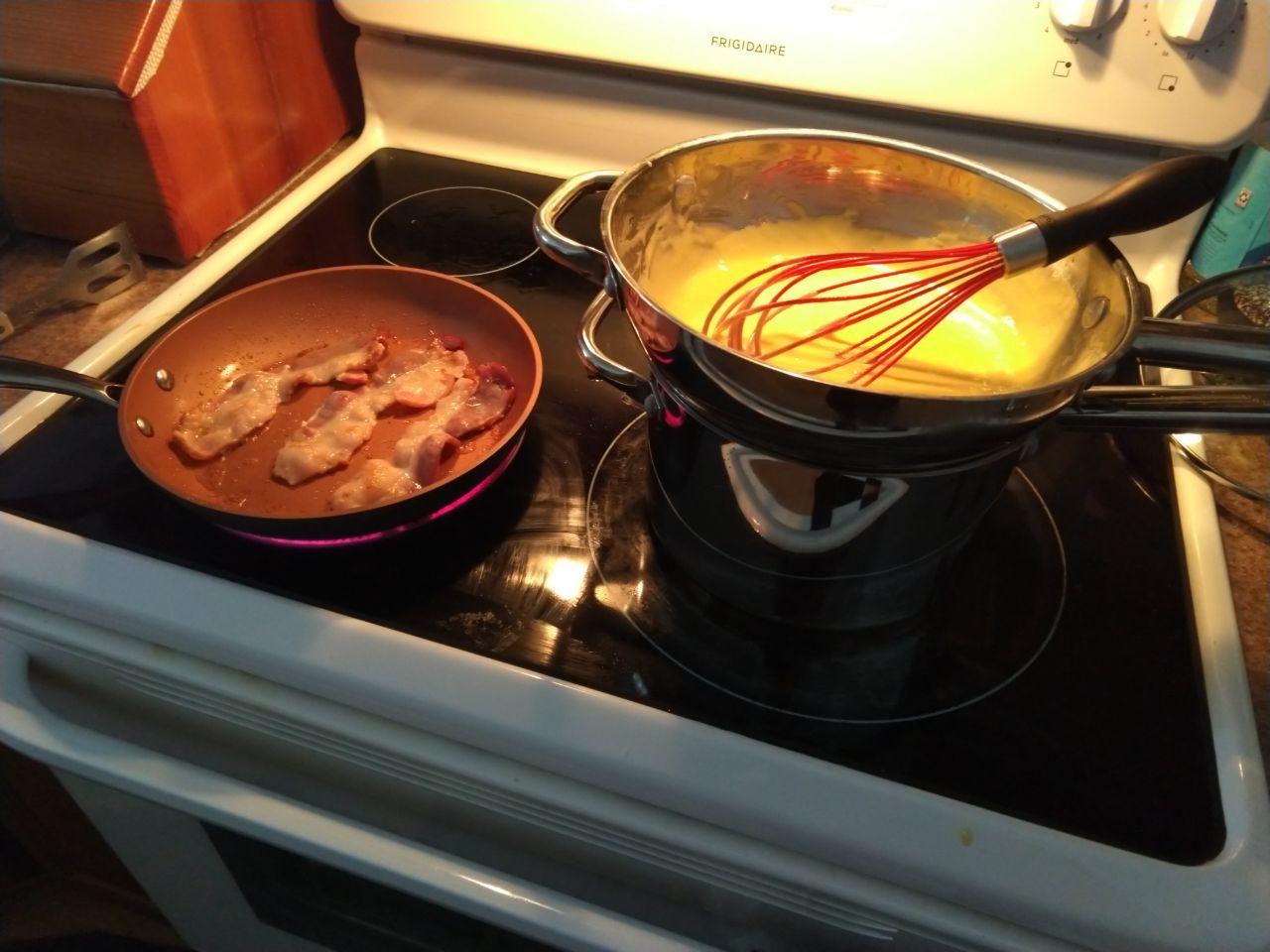 Fill double boiler part way with water and bring to a gentle simmer. In top of double boiler, whisk together egg yolks, lemon juice, pepper, Worcestershire sauce, and 1 tablespoon water.
Slowly add melted butter to sauce while whisking constantly. Add more water if it starts to get too thick. Once butter is incorporated, whisk in salt and remove from heat. Cover to keep warm.
Fill a large saucepan with 3 inches of water. Bring water to a gentle simmer and add vinegar. Swirl the water to form a vortex, and crack eggs into the water carefully. Cook eggs until the whites are solid with a soft yolk, then remove and set on a plate.
Cook bacon in a pan and toast english muffins.
Spread butter on muffins, add bacon, egg, and sauce.
Back to top
source: https://www.bettycrocker.com/recipes/classic-pancakes/77a89da1-fd56-494b-874a-55f9195c1413, servings: 9, prep-time: 15 minutes, ready-in: 15 minutes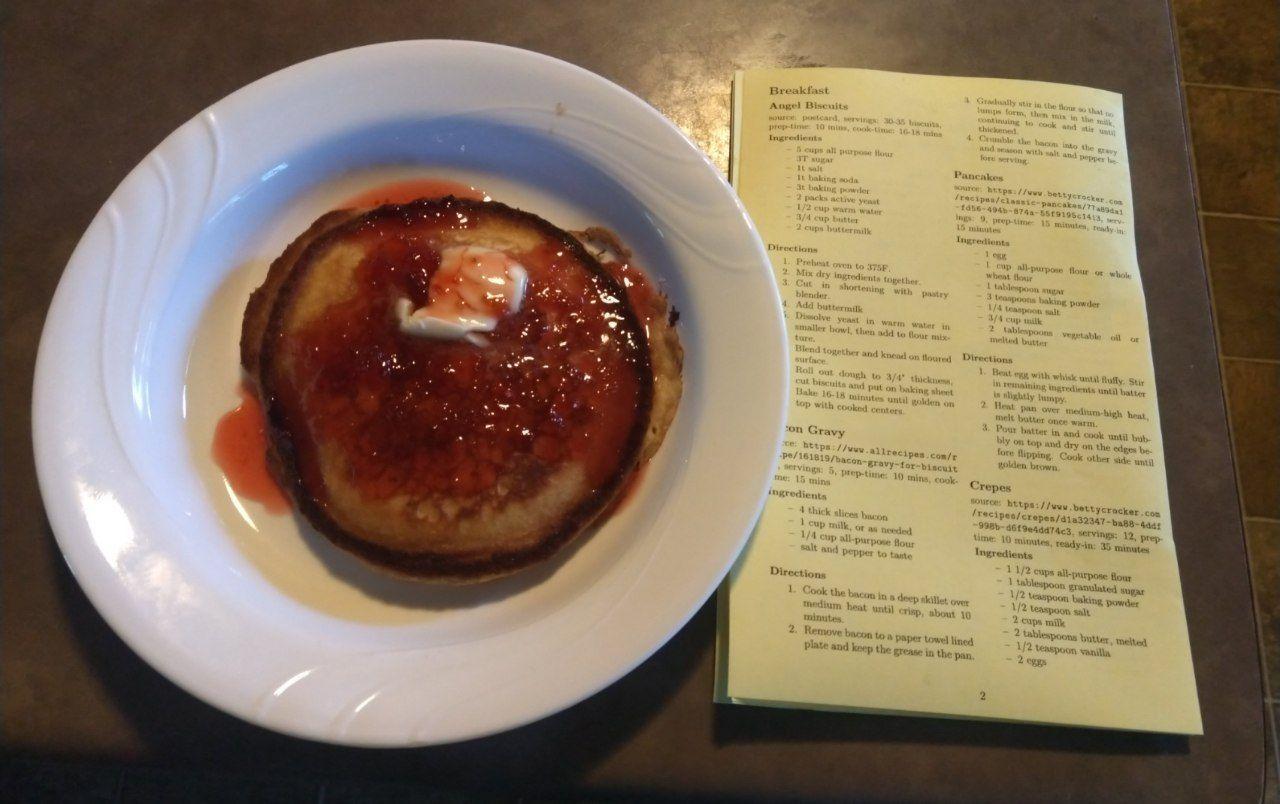 1 egg
1 cup all-purpose flour or whole wheat flour
1 tablespoon sugar
3 teaspoons baking powder
1/4 teaspoon salt
3/4 cup milk
2 tablespoons vegetable oil or melted butter
Beat egg with whisk until fluffy. Stir in remaining ingredients until batter is slightly lumpy.
Heat pan over medium-high heat, melt butter once warm.
Pour batter in and cook until bubbly on top and dry on the edges before flipping. Cook other side until golden brown.
Back to top
2 lbs. Apples
1 tbsp. flour
1/2 cup white sugar
2 tbsp. lemon juice
1/2 tsp. ground cinnamon
1 cup rolled oats
1 cup flour
1 cup brown sugar
1/2 tsp. baking powder
1 tsp. ground cinnamon
1/2 cup unsalted butter
Pinch of salt
Preheat oven to 350F
Peel, core, and slice apples into 1/2 inch chunks.
In a large bowl, combine apples with sugar, flour, lemon juice, and cinnamon.
Place topping ingredients in bowl, mix until clumps form.
Place apples in large baking pan and cover with topping.
Bake for 30-40 minutes or until golden brown. Remove and let stand for 10 minutes to set.
Back to top
source: https://www.allrecipes.com/recipe/233072/summer-fresh-raspberry-pie/, servings: 1 pie, prep-time: 20 mins, cook-time: 10 mins, ready-in: 1hr 30 mins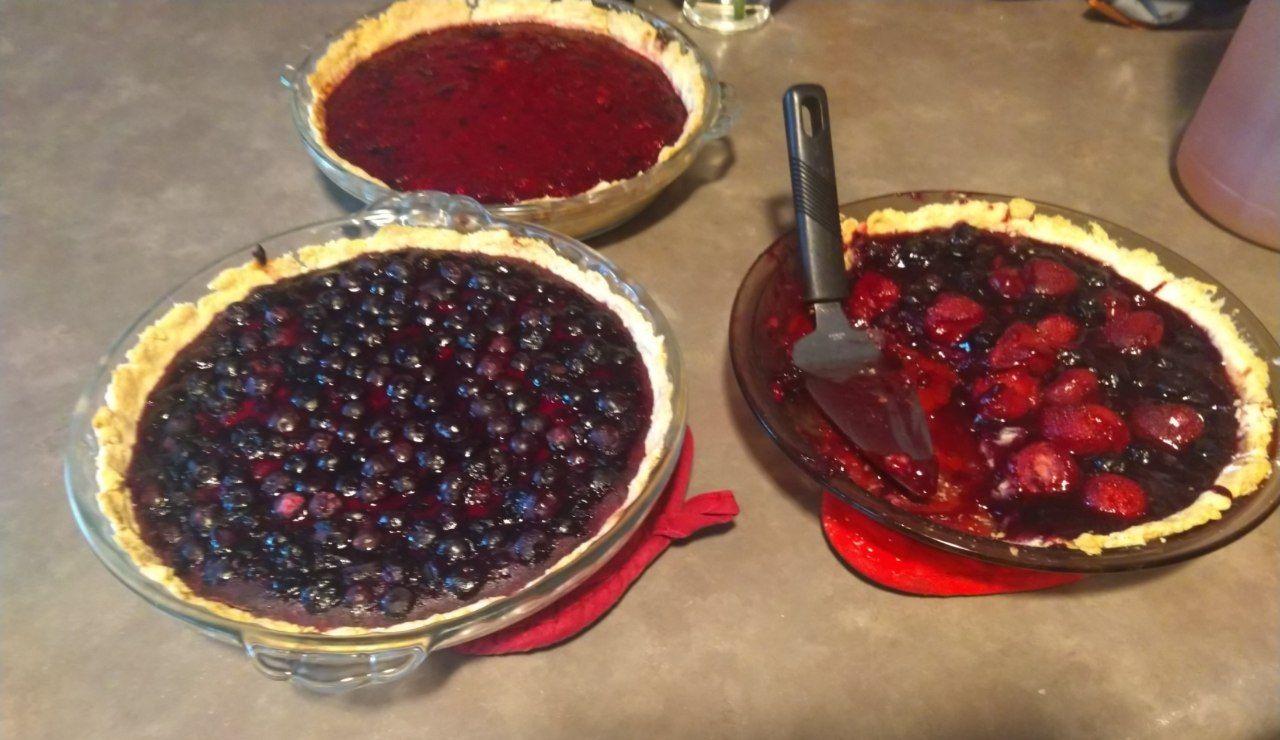 1/2 cup water
4 cups fresh berries, divided
2 tablespoons cornstarch
1/4 cup cold water
1/2cup white sugar
1 tablespoon lemon juice
1 (9 inch) baked pie crust
1 cup whipped cream for garnish
1 teaspoon lemon zest for garnish
Heat 1 cup berries and 1/2 cup water in a saucepan over medium heat; cook and stir until berries soften, about 5 minutes.
Stir cornstarch and 1/4 cup cold water in a bowl until dissolved and stir into mashed berries; add sugar.
Heat berry mixture over medium heat, stirring constantly, until thickened, about 5 minutes. Stir in lemon juice. Allow berry sauce to cool to room temperature.
Line the prepared pie crust with remaining 3 cups berries. Pour berry sauce over berries and chill until set. Serve garnished with whipped cream and lemon zest.
Back to top
source: https://cooking.nytimes.com/recipes/1017066-boston-cr, servings: 12-20 Donuts, ready-in: About 3 hours, mostly unattended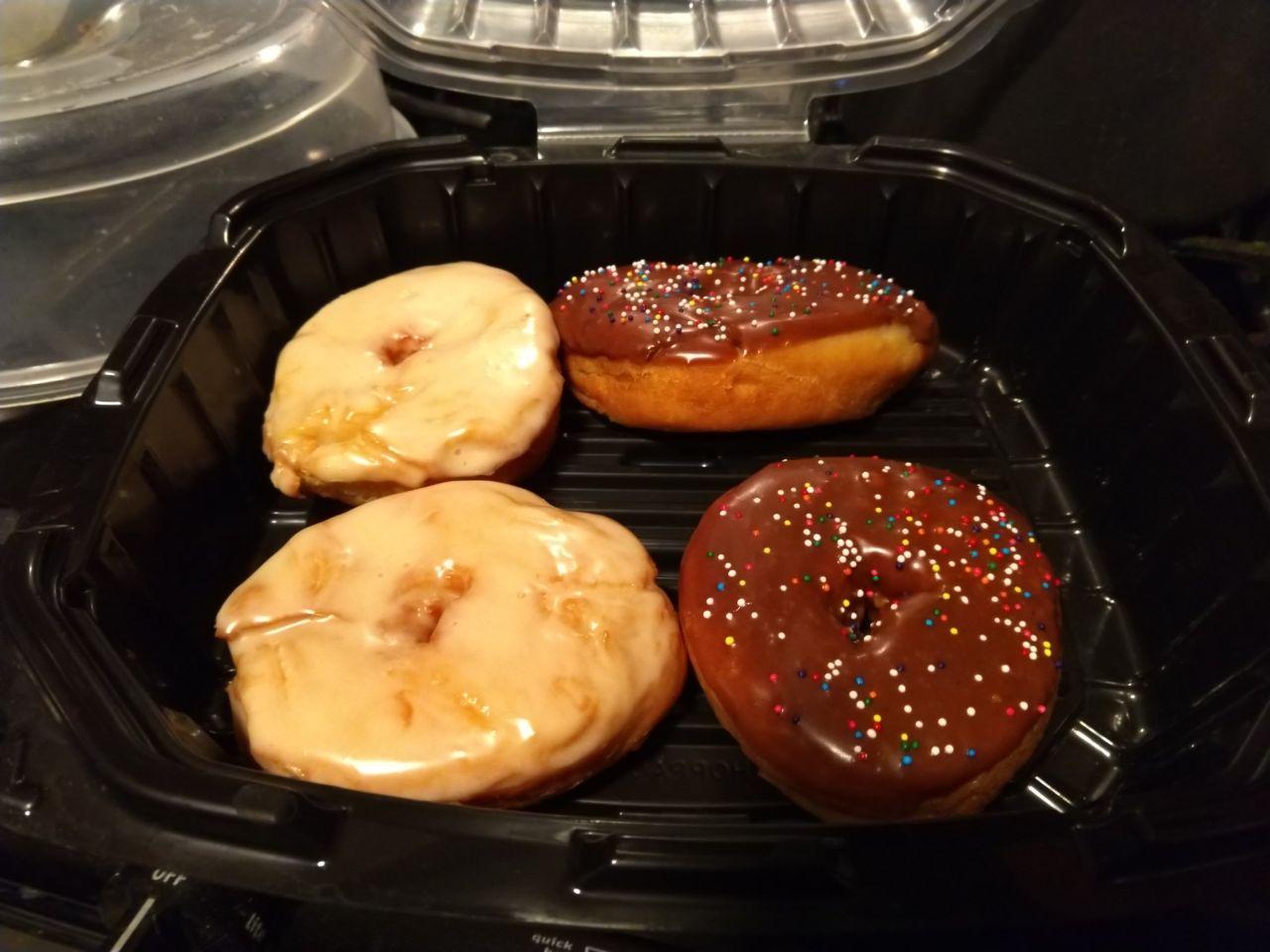 1 1/2 cups milk
2 1/2 teaspoons active dry yeast
2 eggs
8 tablespoons (1 stick) butter
1/2 cup granulated sugar
1 teaspoon salt
4 1/2 cups flour
2 quarts neutral oil
Warm milk to ~90F, combine with yeast and sugar in a bowl. Stir and let sit until foamy.

Beat eggs, butter, and salt into yeast mixture. Slowly add flour and beat with dough hook. Once the dough forms a ball, knead on a floured surface. Transfer to a greased bowl, cover and let rise for 1 hour.

Roll dough to 1/2 inch on a floured surface. Cut to shape with a glass. Knead scraps together and repeat.

Transfer to floured baking sheets and cover to rise, leave room between them. If the kitchen isn't warm enough, warm oven slightly to rise for another 45 minutes.
Start heating oil to 375F 15 minutes before rising finishes. Prepare cooling rack or paper towels.

Add donuts to oil in batches. Cook until golden and remove to rack.

For cream filling

combine 2/3 cup sugar, 2 tablespoons flour, 2 tablespoons cornstarch and a pinch of salt in a small saucepan.
Over medium heat, whisk in 2 eggs and 2 cups cream. Continue cooking, whisking almost constantly, until the mixture just begins to boil and thickens, about 10 minutes. Adjust the heat so the mixture bubbles gently; cook until it coats the back of a spoon (when you draw your finger through this coating, the resulting line should hold its shape).
Stir in 2 tablespoons softened unsalted butter and 2 teaspoons vanilla. Strain through a fine-mesh sieve, and cool to room temperature before using.

Fill donuts with pastry bag. You can make a cavity inside using a chopstick.

For the glaze

whisk together 1 3/4 cups powdered sugar, 1/4 cup unsweetened cocoa powder, 1/4 cup milk and 1 teaspoon vanilla until smooth.
Dip the tops of the donuts in the glaze, and let it harden on a rack.
Back to top
source: https://www.allrecipes.com/recipe/24094/butter-flaky-pie-crust/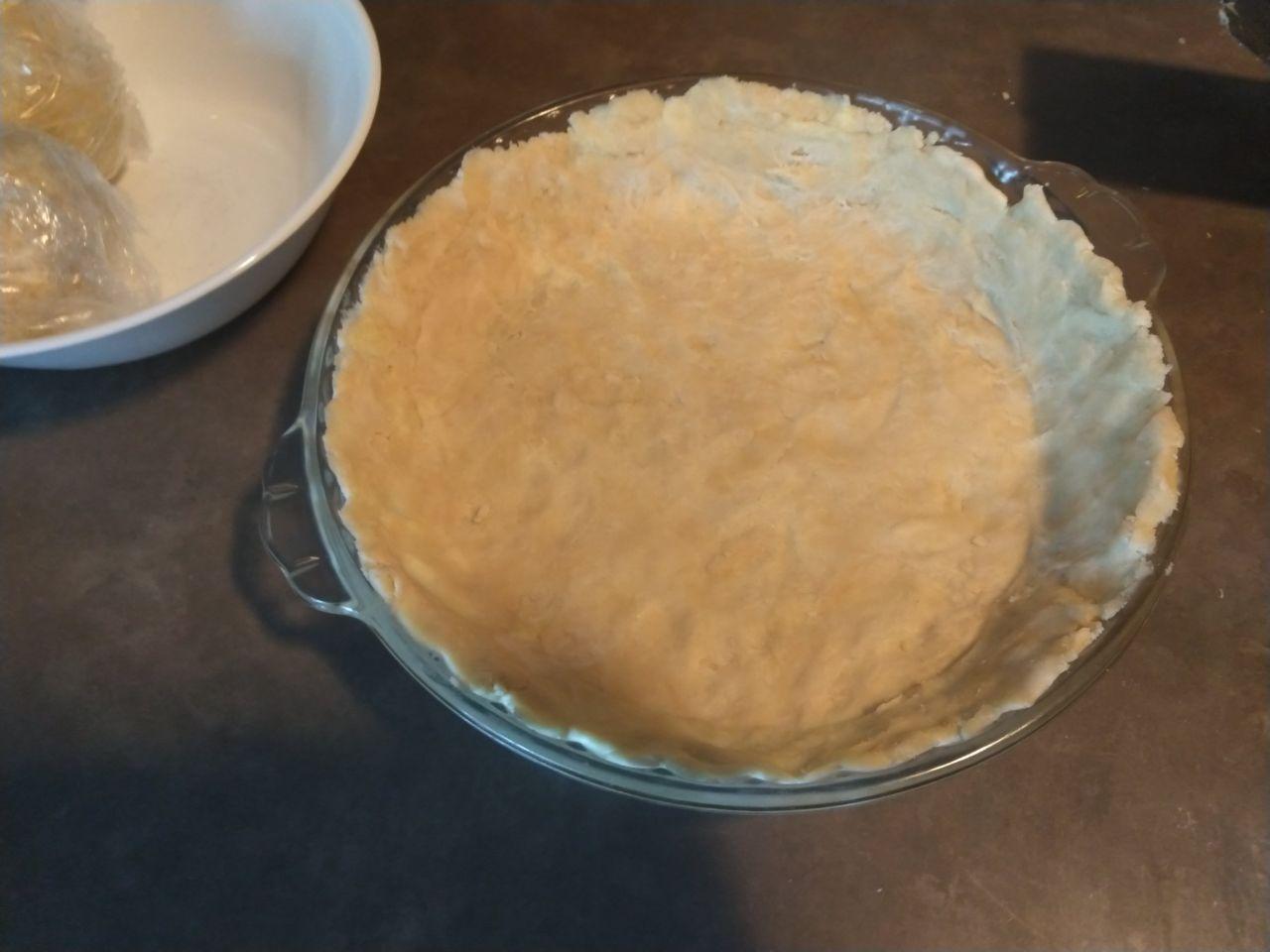 1-1/4 cups all-purpose flour
1/4 teaspoon salt
1/2 cup butter, chilled and diced
1/4 cup ice water
In a large bowl, combine flour and salt. Cut in butter until mixture resembles coarse crumbs. Stir in water, a tablespoon at a time, until mixture forms a ball. Wrap in plastic and refrigerate for 4 hours or overnight.
Roll dough out to fit a 9 inch pie plate. Place crust in pie plate. Press the dough evenly into the bottom and sides of the pie plate.
Back to top
2 1/4 cups all-purpose flour
1 teaspoon baking soda
1/2 teaspoon salt
1 cup butter, softened
3/4 cup granulated sugar
3/4 cup packed brown sugar
1 egg
1 teaspoon vanilla
2 cups semisweet chocolate chips
1 cup coarsely chopped nuts, if desired
Heat oven to 375°F. In small bowl, mix flour, baking soda and salt; set aside.
In large bowl, beat softened butter and sugars with electric mixer on medium speed, or mix with spoon about 1 minute or until fluffy, scraping side of bowl occasionally.
Beat in egg and vanilla until smooth. Stir in flour mixture just until blended (dough will be stiff). Stir in chocolate chips and nuts.
Onto ungreased cookie sheets, drop dough by rounded tablespoonfuls 2 inches apart.
Bake 8 to 10 minutes or until light brown (centers will be soft). Cool 2 minutes; remove from cookie sheet to cooling rack. Cool completely, about 30 minutes. Store covered in airtight container.
Back to top
source: grandma's cookbook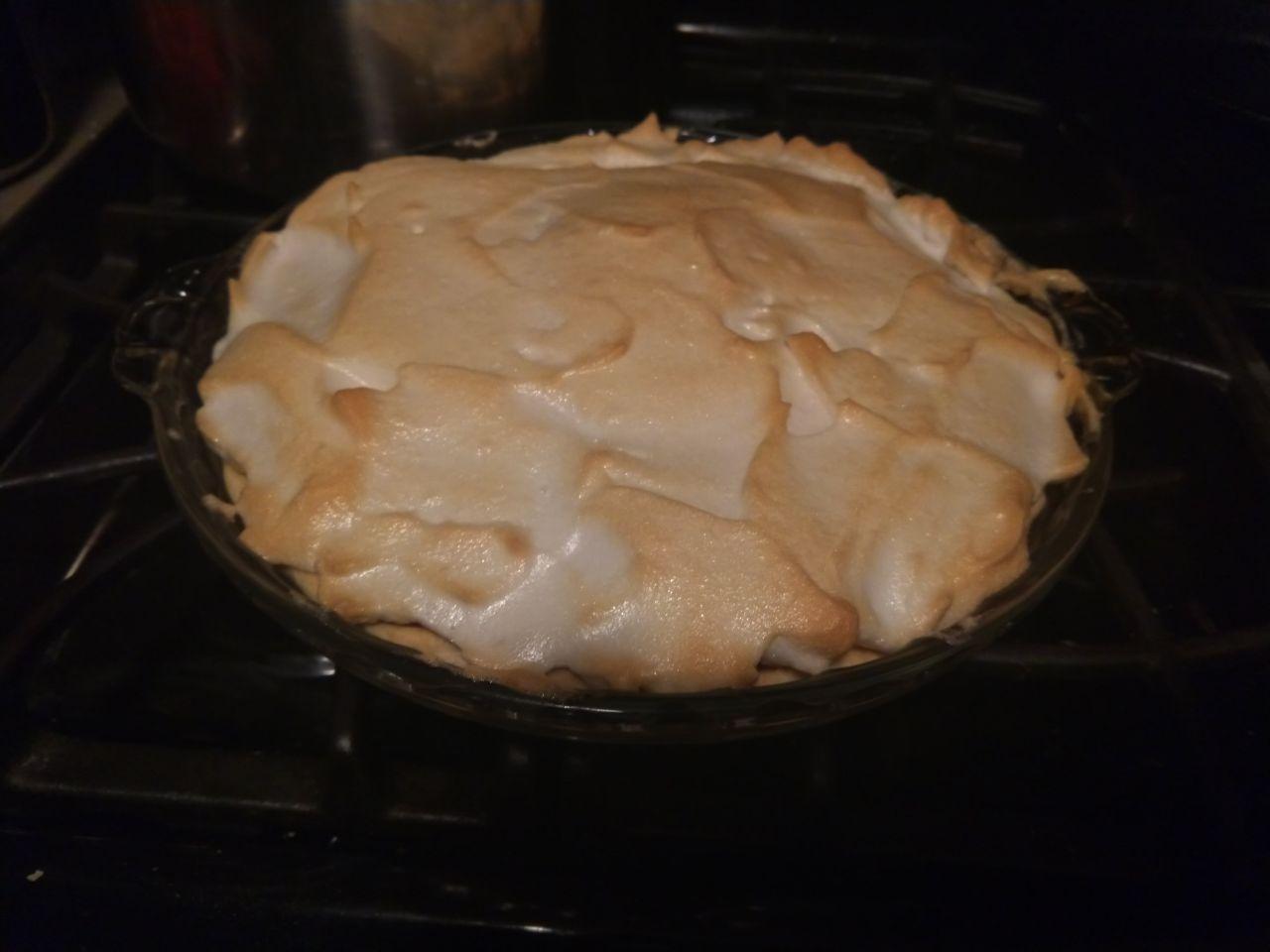 1/3 cup cocoa
1 cup sugar
1/3 cup flour
dash of salt
2 cups milk
1 tsp vanilla
2 egg yolks
lump of butter
baked pie shell
Combine cocoa, flour, sugar, and salt in top of double boiler.
Stir in half of milk and cook until mixture is thick.
Add egg yolks mixed with rest of milk and cook until thick.
Remove from heat, add butter and vanilla.
Pour into baked pie shell.
Meringue:

Beat egg whites with a dash of salt until stiff.
Gradually add 1/2 cup sugar and beat until shiny.
Spread on pie and bake 10-15 minutes at 325F until golden brown.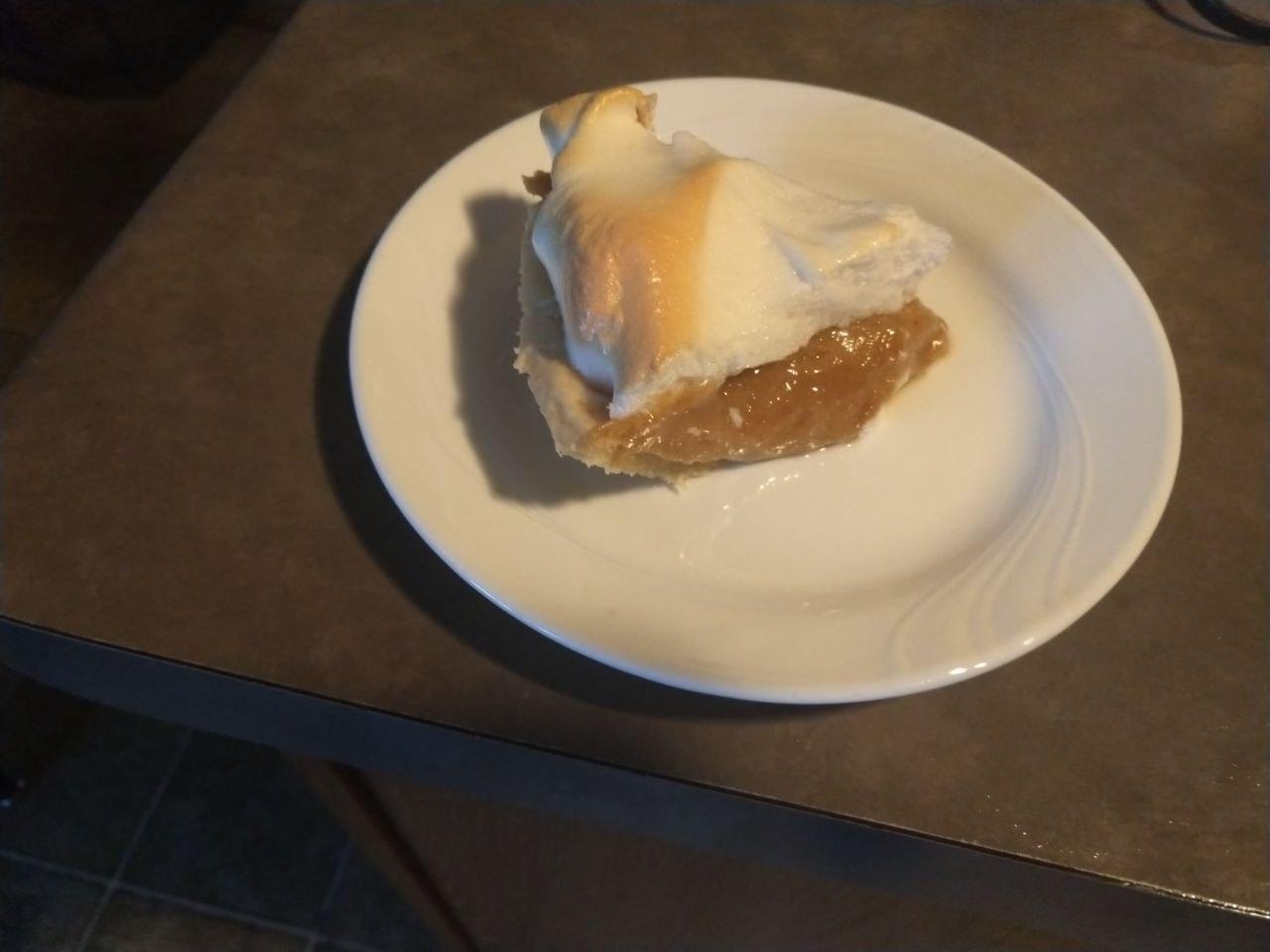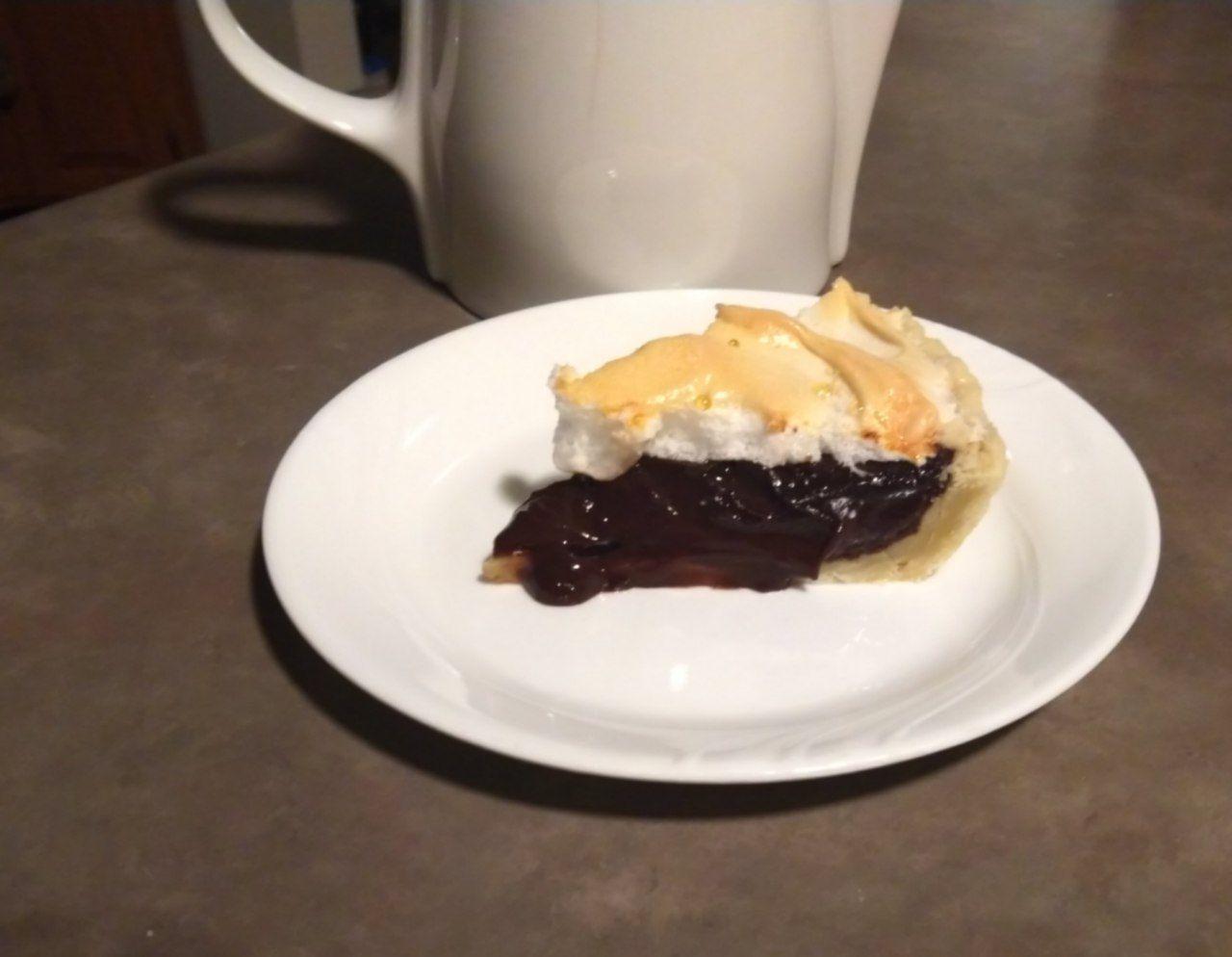 Back to top
4 cups flour
1 cup white sugar
1/2 cup milk
2 eggs
1 tablespoon baking powder
3/4 cup vegetable oil
1 tablespoon anise extract
1 teaspoon anise extract
1 cup confectioners' sugar
2 tablespoons hot water
Preheat oven to 375 degrees F (190 degrees C).
In large bowl, mix flour, baking powder and white sugar. Make a well in the center and add oil, milk, 1 tablespoon anise extract, and eggs. Mix together until dough is sticky.
Oil fingers and pinch off dough in 1 inch pieces. Roll into a ball and place on a lightly greased cookie sheet, 1 inch apart, flatten top slightly. Bake for 8 minutes. Dip cookies in Icing while warm.
To Make Icing: Blend in 1 teaspoon anise extract and enough hot water to 1 cup confectioner's sugar to form a smooth icing.
Back to top
3/4 cup butter
1/2 cup sugar
2 egg yolks
1 3/4 cups flour
1/2 cup fruit preserves
Preheat oven to 375F.
In a medium bowl, cream together the butter, white sugar and egg yolks.
Mix in flour a little bit at a time until a soft dough forms.
Roll dough into 1 inch balls. If dough is too soft, refrigerate for 15 to 20 minutes.
Place balls 2 inches apart onto ungreased cookie sheets. Use your finger or an instrument of similar size to make a well in the center of each cookie.
Fill the hole with 1/2 teaspoon of preserves.
Bake for 8 to 10 minutes in the preheated oven, until golden brown on the bottom. Remove from cookie sheets to cool on wire racks.
Back to top
1/2 cup white sugar
1/4 cup cornstarch
1/4 teaspoon salt
2 egg yolks
3/4 cup water
1/3 cup lemon juice
2 tablespoons butter
In a large saucepan or double boiler combine sugar, cornstarch and salt. Mix well.
Beat the egg yolks and water together, then whisk into sugar mixture.
Cook over medium heat, stirring constantly, until mixture is thickened.
Remove from heat and stir in lemon juice and butter.
Cover with plastic wrap until completely cooled.
Back to top
2 cups confectioners' sugar
3 tablespoons 2% milk
2 tablespoons maple syrup
1/2 teaspoon maple flavoring
In a small bowl, whisk all ingredients until smooth.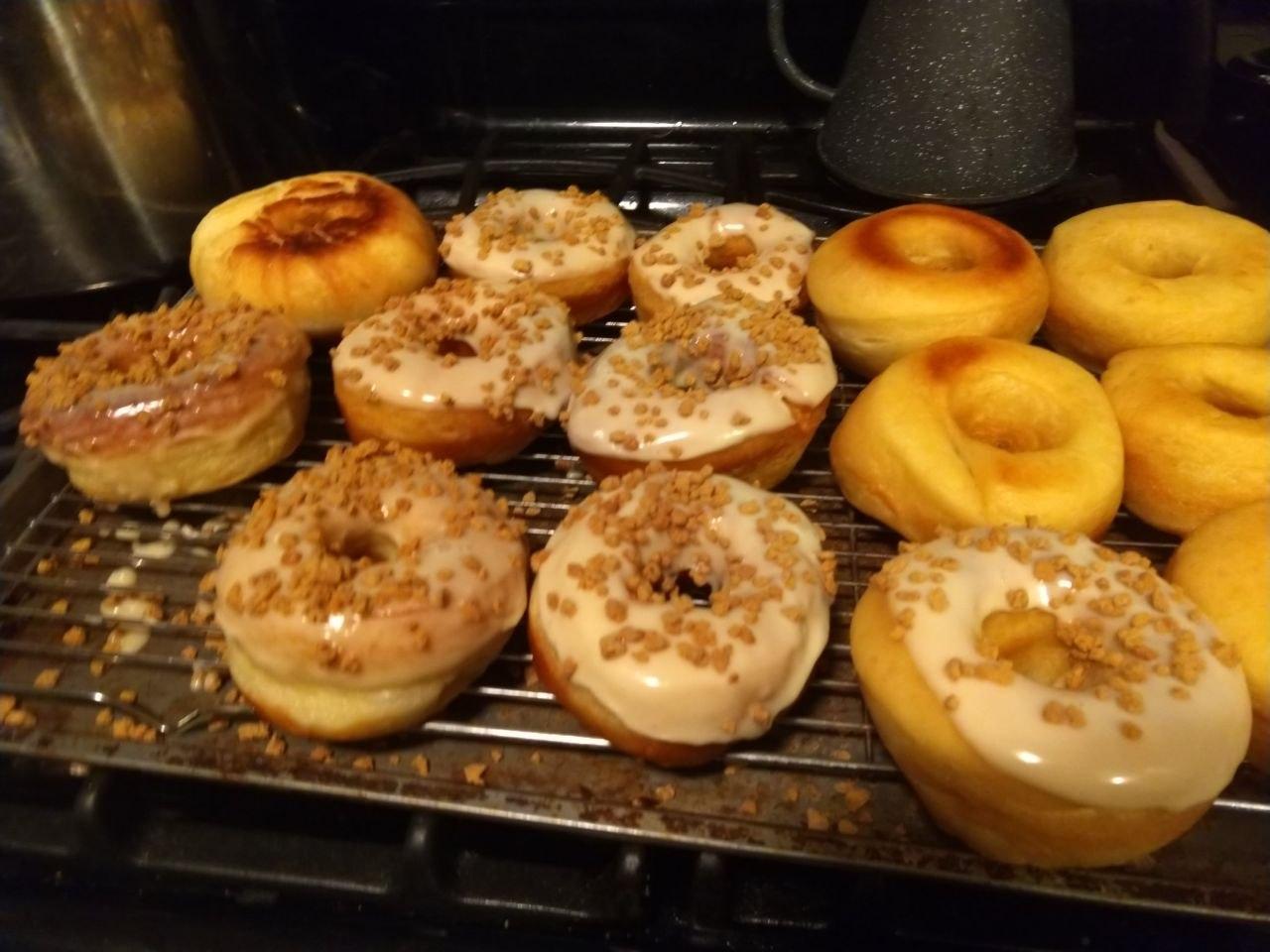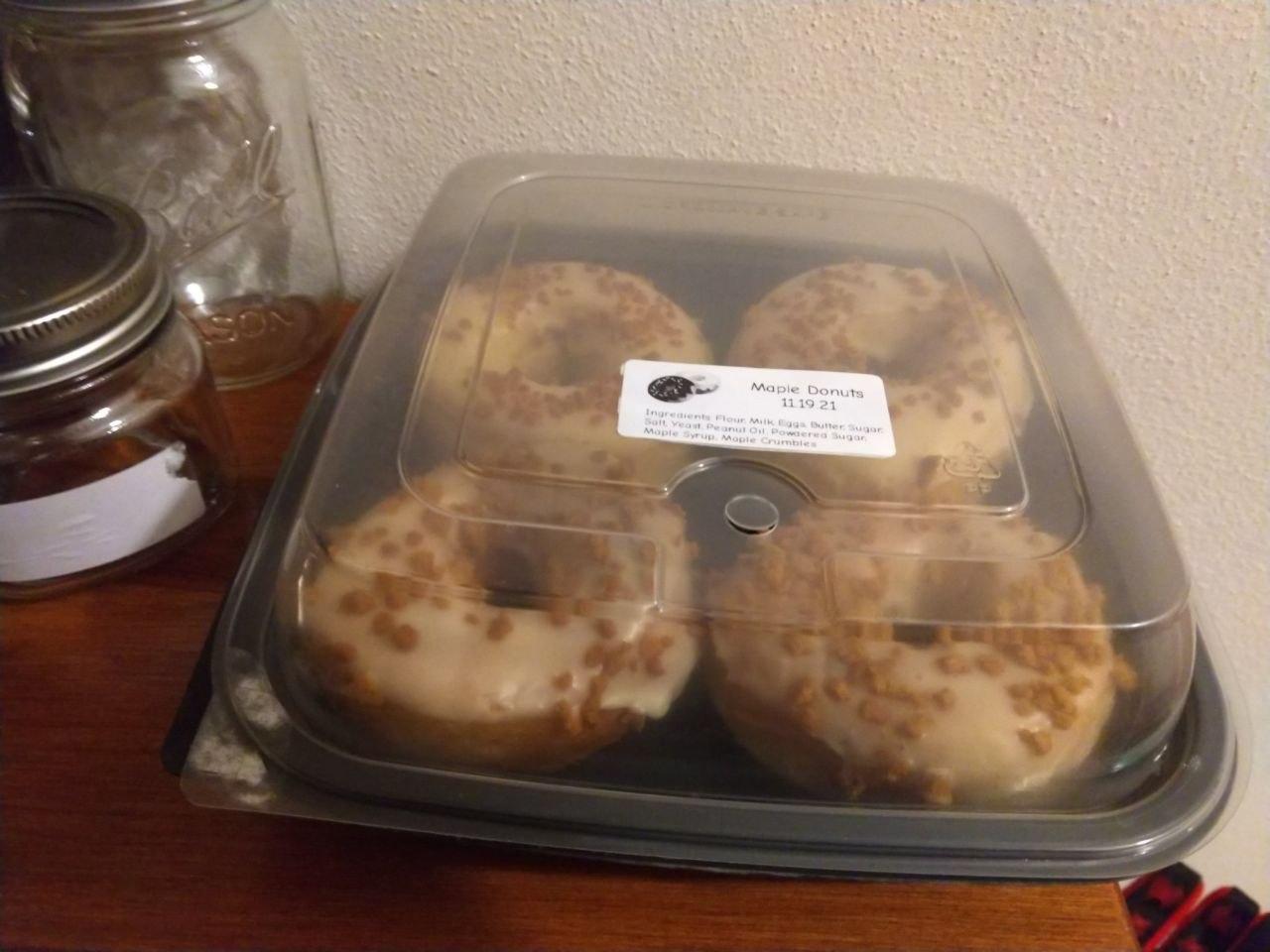 Back to top
Created: 2022-01-12 Wed 13:38